eBooks at the Library
The Rochester Public library has over 10,000 eBooks in its collection that can be read on your computer and/or downloaded to your compatible device to read.
Search the eBook Collections by Provider
Getting OverDrive eBooks
With OverDrive, you can borrow and enjoy free eBooks, audiobooks, and more from your library's digital collection. All you need to get started is an internet connection, a library card, and these three steps
1. Browse
Visit the library's OverDrive search page to view the library's digital collection and browse for titles
2. Borrow
Use your library card to borrow a title. Titles you've borrowed will appear on your Bookshelf under your Account.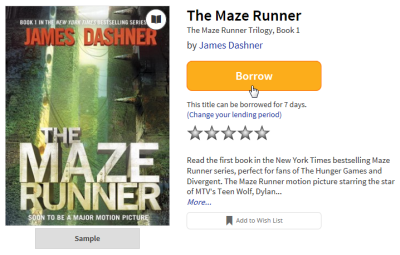 3. Enjoy
On your Bookshelf, you'll find options for enjoying each borrowed title, like Read (read an eBook in your browser usingOverDrive Read or MediaDo Reader, Play, stream a video in your browser), Send to NOOK (send a magazine or newspaper to your NOOK or free NOOK app), and Download (available for eBooks, audiobooks, music, and some videos).
Note to Kindle users: Items checked out and read on your Kindle are tracked by Amazon.com. Kindle transactions are not protected under RPL's privacy policy.
The Digital Catalog collection also features downloadable audio books, movies, and music.

Questions? Email us or call 507.328.2305 or 507.328.2309.
Getting EBSCO eBooks
Then
Getting books from eBooks Minnesota*
The eBooks Minnesota collection covers a wide variety of subjects and features content from our state's independent publishers. Any book may be checked out or read online at any time and books do not need to be returned. There are no limits or overdue fees for this collection.
For portable devices:
For portable devicesDownload the BiblioBoard Library app: Apple Devices, Android Devices, Kindle Fire HD
Install the BiblioBoard Library App
Create a BiblioBoard Account
Use the app to search for and download eBooks
To read on your computer screen using your browser
Go to the eBooks MN website
Create an account
Search for eBooks to read on your computer screen
* Please note that you don't need to create an account to read books online, but in order to download eBooks, you need an account. Accounts must be created while you are using an internet connection in the state of Minnesota - otherwise you may be directed to another state's website. Once you have an account, you can log in and download Minnesota ebooks using an internet connection outside of Minnesota.
Questions? Email us or call 507.328.2309.
eBook Device Compatability Chart
OVERDRIVE ADOBE EPUB & PDF EBOOKS*

OVERDRIVE KINDLE
EBOOKS*
EBSCO EBOOKS**
SONY EREADER
Yes
No
Yes
NOOK

Yes
No
Yes
KINDLE(E-INK READERS)
No
Yes
No
KINDLE FIRE, HD
Yes, with Overdrive app
Yes
Yes, for PDF books with the Bluefire app

BLACKBERRY(Support Discontinued- OMC App No Longer available as of April 10, 2014)

Only with legacy Overdrive app
Yes, with Kindle app
No
WINDOWS 7 PHONE
Yes
Yes, with Kindle app
No
IPOD TOUCH
IPAD (except1st Generation iPad for Overdrive)
IPHONE
Yes
Yes, with Overdrive or Kindle app
Yes, with EBSCO eBook App
ANDROID OS PHONES / TABLETS
Yes
Yes, with Overdrive or Kindle app
Yes, with EBSCO eBook App
WINDOWS PCS
Yes
Yes, with Adobe Digital Editions or Kindle app
Yes
MAC
Yes
Yes, with Adobe Digital Editions or Kindle app
Yes
If you have any questions, please feel free to call us at 507.328.2305 or email us.